Why a new approach?

Today's manufacturing industry faces big challenges. How to deal with shorter product lifecycles, diversified customers demands, globalization, increased outsourcing and collaboration? Up to now many IT systems (such as PIM, PLM, PDM, MRP, MRPII, ...) have been implemented each partially optimizing engineering and production processes. The result is an environment where information is not sufficiently shared between departments, collaborating companies and suppliers. Globalization of product development and manufacturing and shorter product lifecycles require a better approach: Engineering Chain Management. This innovative approach ties product development, purchase, manufacturing and marketing more close together by data-chaining among all departments and suppliers.


ECObjects packages

Class Technology's ECObjects packages are originally developed to meet the needs of the changing manufacturing environment. ECObjects is based on the concept of ECM and consists of six multi-lingual packages: TotalBOM, RealRSV, SmartAPS, QuickCIM, CostACC and CustomRCA.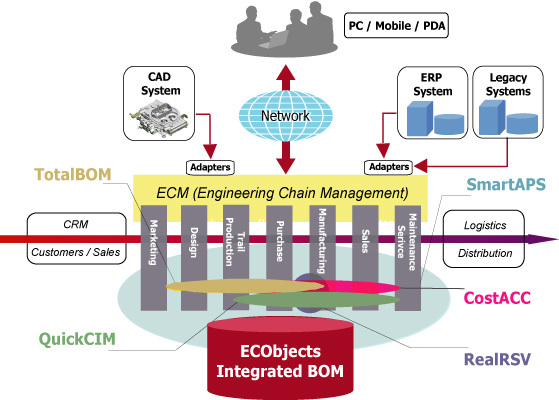 ECObjects: An integrated and networked manufacturing solution enabling information chaining between multiple companies and departments
ECObjects is 100% pure Java-based with a library of more than 100 class components. It is fully customizable through wizards. ECObjects is build on open technologies and runs on IBM WebSphere and Oracle application servers. Both DB2 and Oracle databases are supported.

Management System for Product and
Engineering Information

TotalBOM is the next generation integrated BOM offering real-time synchronization and collaboration of processes during the product life cycle. TotalBOM supports functionalities for PLM, PDM, management of the traditional bill of materials, work flow and cost analysis. Multiple views on the integrated BOM can be created to satisfy information needs of the user. With a single database, TotalBOM manages all historic and current data. CAD data from different systems can be easily imported and displayed with plug-ins and a 3D-viewer.


Production Planning and Control


QuickCIM manages production planning and control. All types of manufacturing are supported: custom-made production, mass production, MRP controlled production, and hybrid production. When combined with TotalBOM all engineering data can be applied in real-time improving manufacturing operations.


System Architecture Base

CustomRCA is the class library and development environment for the ECOobjects solution. Customization by end users is possible through easy-to-use wizards - program coding is not required anymore. Applications built on CustomRCA can run from locations through a smart client-server and multi-layered scalable web architecture. The system is designed for global usage with multi-lingual support and data label access control functions.


Advanced Planning and Scheduling

SmartAPS effectively utilizes information accumulated from day-to-day sales, shipments, and production output. Basic data for production and sales forecasts are derived in a short time, and can be easily used in planning and customer documents.


Real-Time Production Planning and
Resources Assigment System

RealRSV plans and assigns production resources in real-time. A viable production planning is made using shop floor constraints. Based on this planning, available capacity is committed. Supply and demand for future inventory can be adjusted in real-time. Cut-in scheduling for high priority orders in case of sudden planning changes are handled in real-time as well. Furthermore, forward and backward scheduling can be managed resulting in more harmonious adjustment between received orders and production capacity.


Real-Time Cost Accounting System


CostACC makes project cost and performance transparent and helps organizations to better control their costs in real-time. Direct and indirect cost drivers (ABC) are included in the integrated BOM to manage the cost price of products. Past, current and future inventory costs are managed by CostACC to calculate more accurately the actual costs of products.